Price floors are an important part of new pricing strategies for any publisher looking to maximize their profits. But how can companies accurately and efficiently calculate price floors to challenge the market instead of defending inventory value? That's where Opti Yield comes in. Opti Yield is an advertising solution that has changed the way companies calculate floor prices, doing it automatically and without any need for additional resources.
How Opti Yield optimizes advertising revenues for publishers?
Opti Yield is an automated ad performance optimizer dedicated to large media companies. This solution helps publishers maximize their advertising revenues by applying dynamic price floors to their programmatic inventory. These floor prices are not set to be part of a defensive strategy, but rather a challenging one designed to protect the value of the inventory. Indeed, after a learning phase, Opti Yield automatically sets floor prices for each ad impression based on data, so publishers can be sure they are getting the most out of each ad request. Once up and running, yield managers only need to check their gross revenue growth.
1,000,000 dynamic floor prices are calculated every day
With its sophisticated algorithms and computing power, Opti Yield calculates over 1,000,000 floor prices every day to counter bid shading and create a new source of revenue.
Opti Yield's algorithms, developed by our team of experts, determine the optimal floor prices for each website, based on a variety of data: media, pages, placement, ad size, etc…
Unlike many solutions on the market, our solution adapts to different types of publishers regardless of their size. Indeed, for large publishers, this plug and play product is easy to integrate and does not require any additional resources. For smaller publishers, we now offer all of Opti Yield's technologies in our turnkey All-in-One solution.
+20% of EBITDA for publishers
Implemented on more than 300 media, the uplift provided by Opti Yield is estimated to be on average +20% EBITDA (Earnings Before Interest, Taxes, Depreciation, and Amortization).
This result is all the more important because there are no additional costs, either in terms of human resources or time spent implementing and/or operating this solution.
The promise of this product is quite simple: Plug Opti Yield to your media in a flash and see your revenues increase in less than two weeks!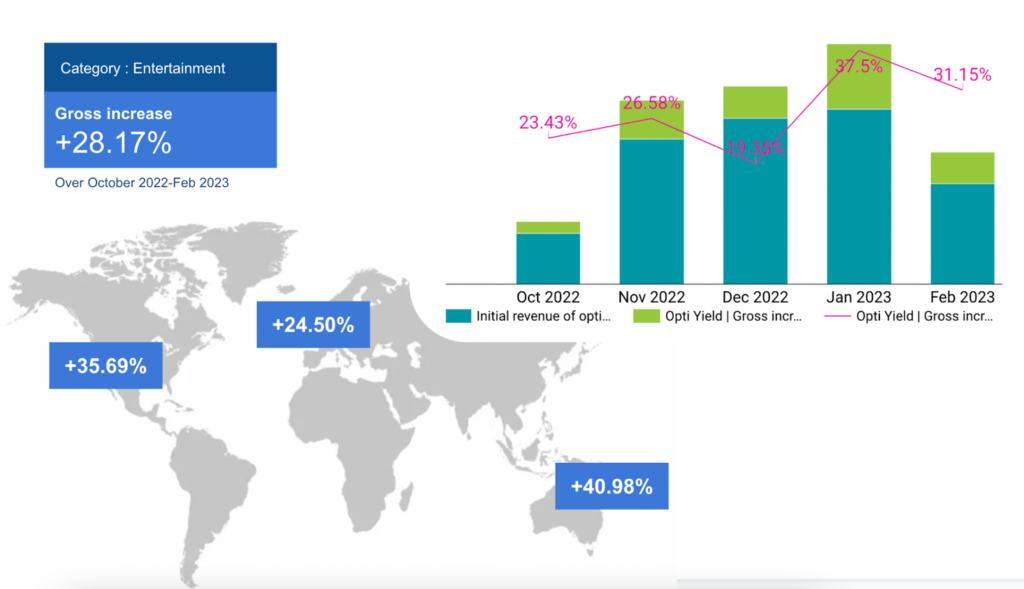 Whether you want to use it for web, AMP or app, for display, native or video, Opti Yield is a direct provider of EBITDA, enabling Chief Revenue Officers and Yield Managers at publishing groups and sales houses to increase their revenues and have time to focus on other revenue streams.
Discover our webinars series
If you would like to learn more about this product, we invite you to discover Opti Yield's webinar series:
Episode 1: Introduction to a must-have technology
Episode 2: AI-Based Dynamic Flooring: Secure a new source of revenue (case studies)
Episode 3: See you in September!