With the consent of the user, without, or no choice given… How do you monetise advertising inventories in these cases? Opti Digital responds to this problem by offering optimised monetisation according to consent and respectful of the GDPR. To facilitate management in these different environments, Opti Digital innovates and launches the first Business Intelligence tool which gives the media a centralised vision of their cross-consent advertising monetisation. Explanation:
Publishers forced to use several Ad Servers according to consent
In France, the media have been forced to comply with the new CNIL guidelines (Commission Nationale de l 'Informatique et des Libertés), which entered into force on April 1. In Europe, it is the ePrivacy 2021 draft regulation which raises the question of alternatives to traditional cookies. The GDPR (General Data Protection Regulation) already requires a website to get the explicit consent of its users before employing trackers to process their personal data.
The purpose of these guidelines? To put the Internet user more at the centre of concerns and give them back control over the privacy of their data.
However, most publishers use Google Ad Manager's Ad Server to oversee their inventories, a solution that only works with cookie consent. Much of the media choose to adopt an alternative diffusion tool to generate advertising revenue depending on the case. Our publishers combine several Ad Serving tools to manage their monetisation, including Google Limited Ads, complemented by our new Opti Digital Ad Serving solution.
The non-consent alternative offered by Opti Digital
To support publishers in the face of European regulations, we have anticipated their need to monetise inventories in all potential cases, with or without consent and no choice given. We have developed an alternative monetisation solution that is GDPR compliant: Opti Digital Ad Server aka ODAS. This technology makes it possible to run advertising campaigns without using personal data from the Internet user.
In the absence of a choice, the publisher can rely on their legitimate interest. As a first step, we call on Google's Limited Ads to simplify the delivery of direct campaigns and compatible (cookieless) programmatic partners for our publishers. Then, we complete the monetisation via ODAS to diffuse self-promotion campaigns, programmatic advertising, direct or performance-based campaigns selected by the publisher or by Opti Digital.
If the Internet user objects to the processing of their personal data, we directly activate our Opti Digital Ad Server monetisation solution. Consent recovery campaigns make it possible to switch the Internet user's choice back to positive consent in order to optimise advertising profitability. With the publishers we support, we collect hundreds of consents every day.
Over 100 media outlets have chosen our innovation for their cross-consent advertising including Slate.fr, NextPlz.fr, Futura-sciences.com, Clubic.com…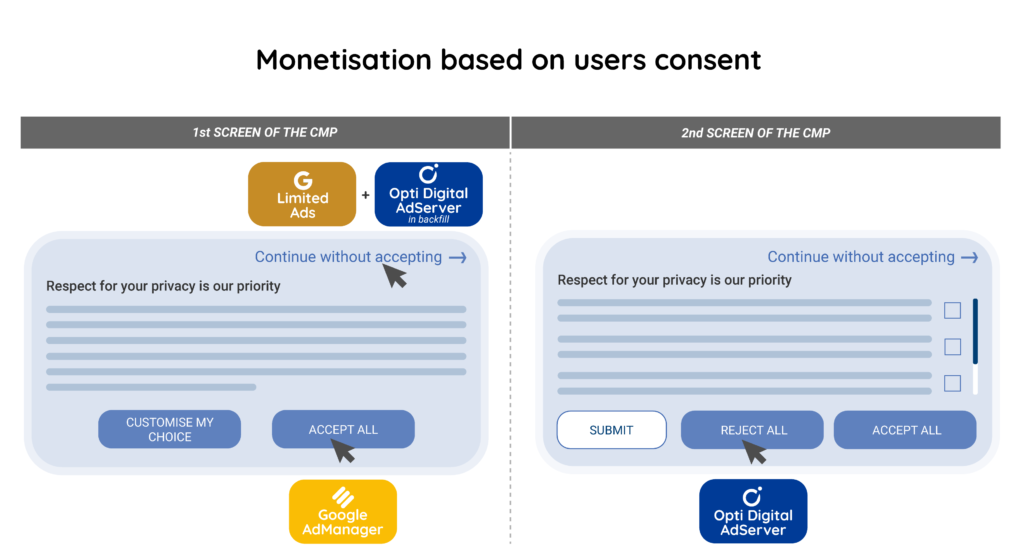 Reconciliation of Ad Server data
Since the creation of Opti Digital in 2018, we have been building our analytic tool to meet the needs of publishers. To enable them to have a centralised view of their advertising revenue, we have developed the first cross-consent Business Intelligence tool.
All the Ad Server data used, with or without consent, is grouped together in our analytics table to guide publishers in their strategic decisions and drive their media growth. Thanks to our expertise in Data Visualisation, we allow them to interpret the performance of their campaigns by offering them a detailed analysis of their advertising earnings.
Our latest updates include, in particular, cross-consent analysis to provide insight into revenue in all 3 circumstances: with consent, without consent, and no choice given with legitimate interest. The major new features of our reporting tool include an analysis of inventory volumes, revenue, eCPMs and page RPMs (revenue per 1,000-page views) according to the consent received and the Ad Server used.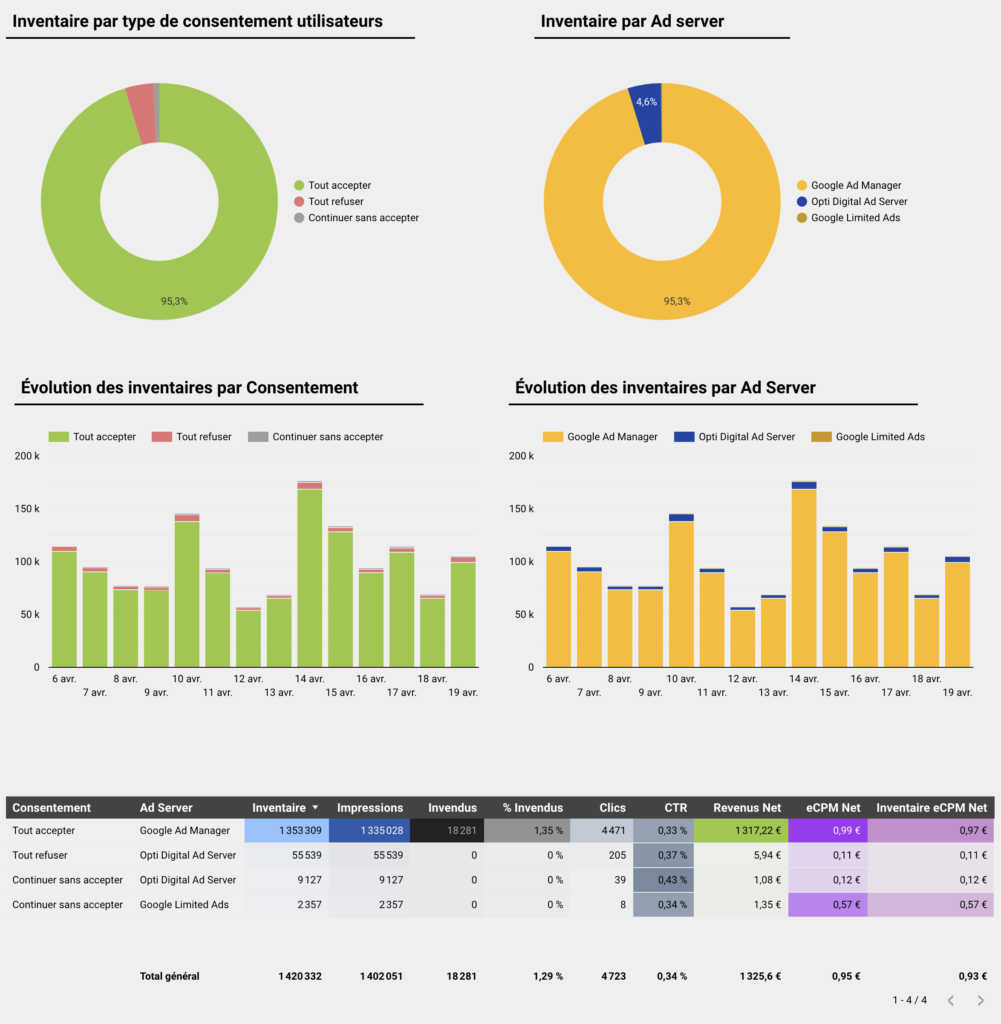 Thanks to our management tool, we improve publishers' revenues every day in all situations: with or without consent. And you, what monetisation strategy have you chosen for your website? Contact us to discuss it further.