How can you succeed and find your way in a market flooded with an array of advertising solutions? With all of them meeting the same objective of optimizing revenue, choosing one solution over an another can be a long-winded process for online media publishers such as yourselves. To avoid increasing the number of technology partners with the risks this poses in terms of incompatibility, excessive advertising pressure or a negative UX, and focus on your core business, Opti Digital has the solution: Opti All-in-One. This managed solution controls and optimizes all your advertising management. Here we take a closer look at Opti All-in-One, which delivers the functionality that is essential for your wallet and your time. 
What Does Our 360º Solution Include?
Opti All-in-One comprises advanced and agile advertising technologies that are tailored to editorial content websites, small ads, and forums: a must-have for taking your advertising monetization to the next level.
1. Dynamic in-read Ad Insertion
Our solution automatically places ads in pages, identifying high-potential positioning and exploiting all spaces, whereas manual placement could overlook some of these, at the bottom of the page, in the sidebar, or within long articles. In other words, this smart technology inserts ads within editorial content and harmonizes the distribution of advertising space on media. 
2. Header Bidding
Our Prebid Client and Prebid Server Header Bidding for Web & AMP put several sources of demand for a single inventory into competition. We carefully select the SSPs (Sell-Side Partners) based on their incremental value in order to maintain the site's loading time. Our aim is to guarantee an excellent fill rate and an optimal level of advertising revenue.  
3. Lazy Loading
This feature enables the ad to only be triggered when the user approaches it. Being beneficial for visibility, Lazy Loading also improves the user experience by reducing page loading time, and it helps with better natural indexing.
4. In-view smart refresh 
This module increases the number of displays per visit, without harming the user experience. In fact, the new ad is displayed once the previous one has been viewed. This technology also increases advertising yield and does not add any intrusive or floating formats above content. 
5. Monetization of non-consented inventories 
We adapt to the various specific cases: in the case of positive consent, with Google Ad Manager to optimize the dissemination of targeted ads; and in the case of negative consent or no choice being made, through GDPR-compliant solutions — Limited Ads and/or Opti Digital Ad Server, which enable contextual targeting without cookies. 
6. Opti Yield
Our very latest technology draws its strength from artificial intelligence. It allows publishers to earn more revenue without increasing their advertising pressure by deploying dynamic floor prices. These floor prices are calculated automatically and communicated to all SSPs involved in advertising bids, in a cross-functional manner. This guarantees fairer competition in which the various partners have access to floor prices beforehand on an equal footing with Google. Opti Yield does not modify the publisher's configuration in any way and helps save time without any need for additional human resources and, above all, without any risk. 
7. Respecting the User Experience 
Our technology helps maintain the UX: Firstly, it makes it possible to reserve a dynamic minimum height for each ad block in order avoid content jumping, which is penalized by Google in its Core Web Vitals program, even for a refresh in a different size. Secondly, Opti All-in-One anticipates the margins between content and advertising to avoid any unintentional click that might trigger non-compliance with Google's policies. Lastly, our script with numerous server-side connected advertising partners protects your pages' loading times and consequently the UX and your indexing.
How Do We Deploy Opti All-in-One?
Our advertising technologies are implemented to activate these five optimization levers:
Advertising Pressure: an essential balance to exploit the true value of your media. This should not be too high so as not to harm the UX, and not too low to maintain a good level of revenue.
Visibility: vital for appealing to buyers who will prefer to invest in inventories with a high viewability rate, often above 70%.
Consent: to monetize your audience at all times, with or without consent for targeted advertising and in accordance with the GDPR.
Fill Rates: a performance indicator needed for a media to have a good yield. It is important for a fill rate to be high, as this means that there is a positive response to bid requests from advertisers.
Competition and Price: two parameters that need to be stimulated and optimized to increase your overall advertising performance and Page RPM (revenue per thousand impressions).
Deploying Opti All-in-One requires you to incorporate our script in the header of your website. From then on, it's over to us. Our technologies don't require any set-up on your part and are deployed remotely, as a managed service, by our team of experts via our website administration tool: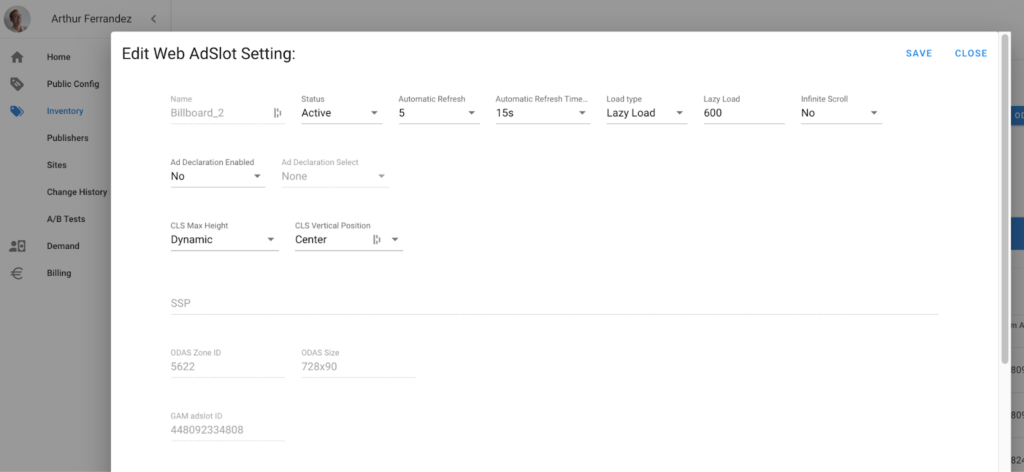 Measuring Its Effectiveness
To monitor the performance of Opti All-in-One, we measure publishers' Page RPM (revenue per 1,000 pages viewed), an essential revenue indicator for digital advertising that is calculated as follows: (total revenue ÷ pages viewed) × 1,000
The Page RPM is the result of all other performance indicators — fill rates, competition, visibility, etc. — and is a key component in analyzing your advertising profitability.
For more information, read: What Data Should You Analyze to Maximize Your Advertising Earnings? 
We provide an analytical platform so that publishers can track their advertising results in real time. This powerful business intelligence software centralizes the main KPIs and provides an overview of overall performance. 
To learn more about our dashboard, we invite you to view our series of tutorials that can be found on our YouTube channel: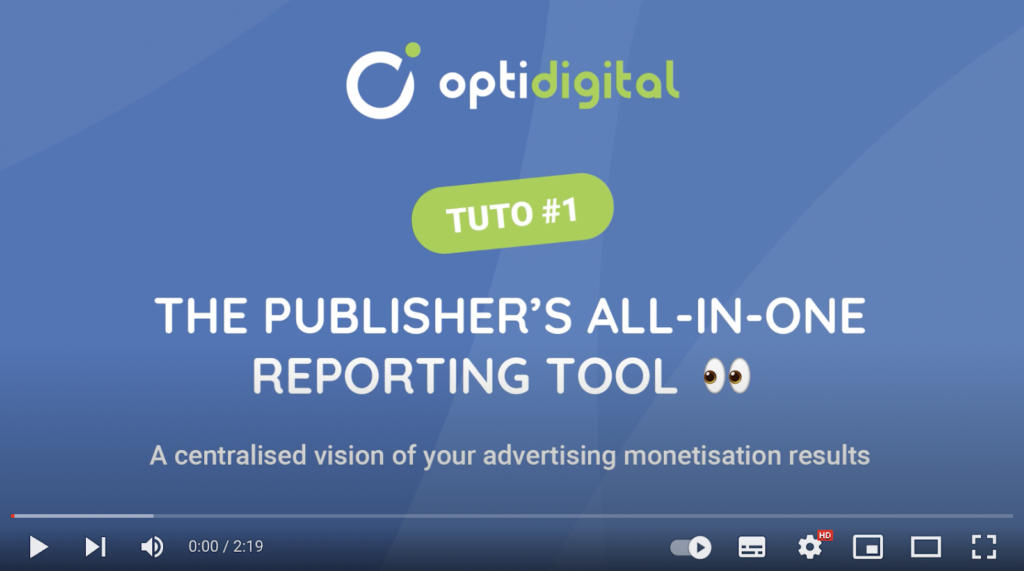 Effective, agile, and without any long-term commitment, Opti All-in-One is a powerful solution that showcases your advertising inventories and saves you previous time. As well as these benefits, our flagship solution synchronizes with your Ad Server and allows you to stay in control of your advertising campaigns in Google Ad Manager. If you don't have access to Google Ad Exchange, we create it for you, thus giving you the opportunity to negotiate Deal IDs on your own vendor site — programmatic guaranteed, preferred deals, and private bids.
Thanks to Opti All-in-One, we have seen an average 40% increase in revenue, a viewability rate of 70%, and a fill rate of 90% across our entire network of publishers. Our solution thus offers better performance in their direct campaigns: improved visibility, better volume, better CTR, etc.
And where are you up to with optimizing your advertising monetization? Let us know.