For the third year in a row, Opti Digital is back with its article on the best advertising formats and sizes to implement in programmatic advertising. When setting up your ad inventory, via your ad server, it is essential to assign the right sizes to your ad units and integrate the right formats. By doing so, you will improve your overall performance. Here are the trends to keep an eye on in 2023:
Most effective media types
In order to attract more advertisers and increase your fill rate, it is interesting to set up a multi media types strategy which means offering within the same advertising space display, video and native demand.
Display
According to the IAB's Internet Advertising Revenue Report, display was estimated to represent 30% of the advertising market in 2021 (just behind search) with a total of $56.7 billion.
Display accounts for a major portion of the advertising investments. One of the main reason is because this format is easy to optimize via a/b testing. Indeed you can:
Disconnect and connect a partner to analyze its incremental value
Define rules based on browsing behavior (lazy loading, smart ad refresh…)
Test different sizes and see which ones are the most efficient
By offering various display sizes inside your ad slots you will increase your fill rate and your eCPM.
Video
A fast-growing advertising format, the video format also benefits from high CPMs. Depending on your internal resources and your strategy, you can offer advertisers outstream or instream video:
Outstream video: Also called "in-read" or "native", it's an advertising format, which allows an ad to be displayed, outside of any video content stream. At Opti Digital, the outstream video format is integrated in header bidding, competing in multimedia types. It contributes to our publishers' advertising profitability in addition to IAB and native formats. Due to a low completion rate, advertisers rather turn to instream.
Instream Video: In advertising, an "in-stream" video is an ad integrated before (pre-roll), during (mid-roll) or after (post-roll) a video content delivered in a player. It generates more revenue than outstream, since it represented 90% of the video market revenue in 2021, compared to 10% for outstream video. However, this format requires a lot of work from publishers and significant internal and financial resources to produce, host and stream video content.
Before focusing on this format, it is important to note that there are very few open auctions for video, and that it suffers a lot from seasonality, here in Europe. However, in the USA, video header bidding is rather widespread.
Native
Google AdExchange brings native ad demand. In fact, you can ask your account manager for the revenue share coming from this format. According to Outbrain, consumers look at native ads 53% more than display ads.
Native ads don't look like ads, that's why, in order to not mislead the internet user, you need to respect the rules defined by the IAB and The Coalition for Better Ads.
At Opti Digital, we design native styles matching each website's "look and feel". The personalization possibilities are numerous and include the attribution button (AD), the background, the color of the CTA (call to action)…
Most profitable ad sizes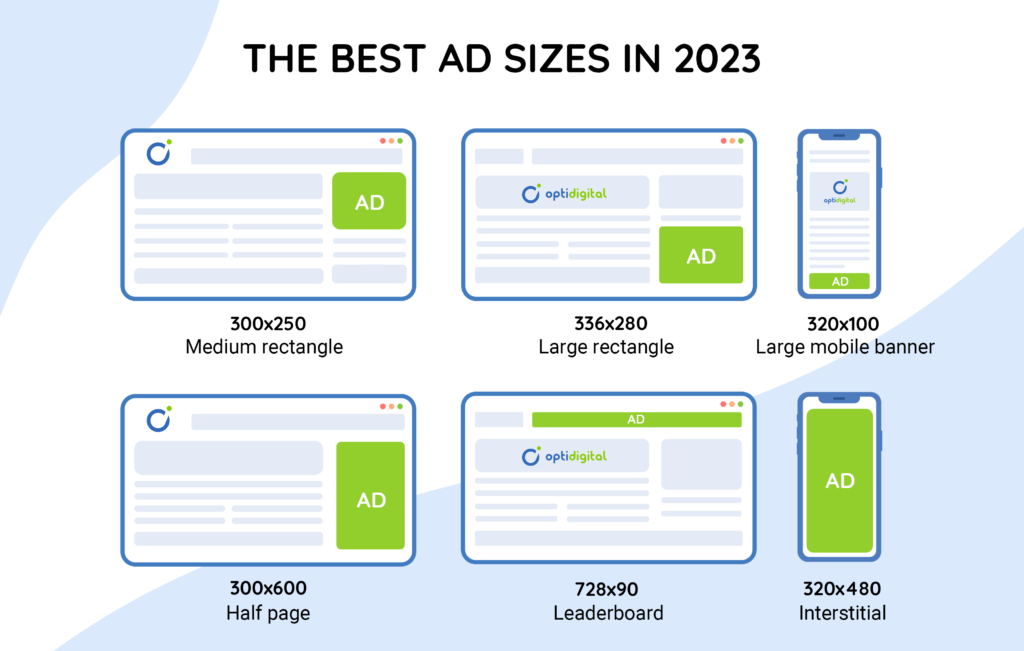 To get good advertising results, you have to consider the size of the ads you want to offer. Google provides on its website a list of the best performing sizes, a list that confirms the results observed on the 200+ media we optimize.
When it comes to mobile devices, the most popular format is without a doubt the large mobile banner, a non intrusive size that allows users to have a pleasant reading experience by leaving a major part of the content visible. For mobile, it is interesting to keep the "Ad slot expansion" option active, which is enabled by default by Google. This feature allows ads to extend across the width of the device, while preserving proportions.
As it was the case in 2022, the best performing sizes on desktop are: medium rectangle (300×250), large rectangle (336×280), half page (300×600) and leaderboard (728×90).
We also suggest, among the formats to integrate, the web interstitial. With significant CTR and high eCPM, interstitial ads are an excellent choice to boost your revenues. However, because of their intrusiveness, it is important to use them with caution and to respect the capping of one interstitial ad per hour for each unique user. At Opti Digital, we always agree with publishers before integrating this type of ad, to make sure it fits their media strategy.
To go even further and maximize the profitability of your inventory, we suggest you opt for anchor or sticky ads.
Read: the best advertising format in 2022
Emerging interactive ads
According to a report published by Hootsuite in 2021, 42.7% of users (worldwide) use tools to block online advertising each month. While this phenomenon is still very much alive today, it is more critical than ever for AdTech and publishers to find a way to change the advertising experience by offering to users a more engaging experience. The higher the KPIs for conversion, viewability, CTR and completion rate… the higher the profitability will be.
An interesting solution is getting viewers involved by making the advertising experience more interactive. How? By offering playable ads that disclose certain elements based on an action. These types of actions can range from scratching something, making a puzzle, shaking your mobile, rolling over, entering your email address…
In this logic of innovation and refreshing experience, at Opti Digital we have developed a brand new format: "Opti Engage". Based on social media experience, and gathering multiple media type ads, this format offers a beautiful design enhancing the advertiser's brand. In addition, it also aggregates more demand, thus increasing publishers' revenues.

Here is a preview of what it looks like:
Now you have all the elements to upgrade your monetization for 2023! And if you'd like to learn more about the brand new Opti Engage ad format, contact us.