Dynamic pricing is one of the hottest topics in the programmatic world. In parallel with the launch of Google's new pricing option, "Optimized Floor Prices," we unveiled our new product, Opti Yield, whose first flagship innovation is an optimized dynamic floor price technology that is already offering outstanding results. Why should you choose a dynamic price floor solution and how does Opti Digital's offer stand out in the market?
Adapt the Price Floor to Surrounding Factors
Dynamic Price Floors by Opti Digital is a process for selling ads that involves setting a minimum price for your inventory and then automatically adjusting this price depending on certain factors. Unlike static price floors, this intelligent technology combines several advantages.
Firstly, it takes into account historical demand bid data of demand partners and adjusts price floors automatically, day by day, and hour by hour. By implementing dynamic price floors, publishers make sure that SSPs bid a minimum price in relation to the previous offers.
More than bid history, this technology also adjusts the price of a publisher's inventories according to the inventories: pages, placement, ad size, etc. For example, in-read ads are very qualitative and usually have a 70% viewability rate. Our algorithm will adjust the price floor based on this information. The user's browsing history is also an element that feeds our algorithm: The more cookies there are in a browser, the better the targeting capabilities for the buyer who will pay more for a highly qualified user target.
While these adjustments can also be made manually, using a technology based on machine learning not only saves precious time but also avoids human error in data analysis and a lack of reactivity in case of a sudden change in the above conditions.
Seek Transparency to Challenge Competition
Today, few companies offering this technology are capable of managing such an algorithm and pushing it to SSPs through Prebid and to Google Ad Manager. However, not communicating the price floor to the wrapper client-side represents a real loss of revenue for publishers. That's why at Opti Digital, we have chosen to offer a holistic technology that communicates price floors in the bid request to all connected marketplaces.
To better understand what this means in terms of profitability, let's take a look at the following two examples:
Example 1 — With General Price Floors Used in Header Bidding
A static floor price of $1.4 is set in Google Ad Manager. However, when publishers sell an ad unit in Header Bidding, they could receive a bid of $1.3 through Prebid, as the price floor set in Google Ad Manager is not visible to all SSPs connected in Header bidding. The Prebid winning bid is then submitted to Google. In parallel, Google Ad Manager is informed of the $1.4 floor price and can bid accordingly, most likely $1.5. It penalizes the SSPs connected in Prebid until their bidding algorithms find the floor level, and gives the advantage to Google.
Example 2 — With Opti Digital's Dynamic Price Floors Used in Header Bidding
Opti Digital's dynamic price floor technology sets a price floor according to several conditions. When the price floor is set, the information is directly communicated to the SSPs through Prebid. So if the floor price is set at $1.4, it is very likely that the SSPs will bid $1.5. This winning bid is then submitted to Google Ad Manager, which, if interested, will outbid at $1.6.
In the second example, publishers will receive an offer at $1.6 instead of $1.5 due to competition of Prebid against Google.
Watch Your Ad Request Net eCMP Increase
When implementing this technology on a publisher's site, Opti Digital systematically performs A/B tests on smaller traffic in order to identify the average uplift and propose it to a larger audience (up to 85%) afterward.
In January 2022, we ran an A/B test on a web page of a media publisher in Europe. We tested our dynamic price floor solution on 30% of its traffic to see how it affected its net ad request eCPM. Here are the results we observed on a specific ad placement: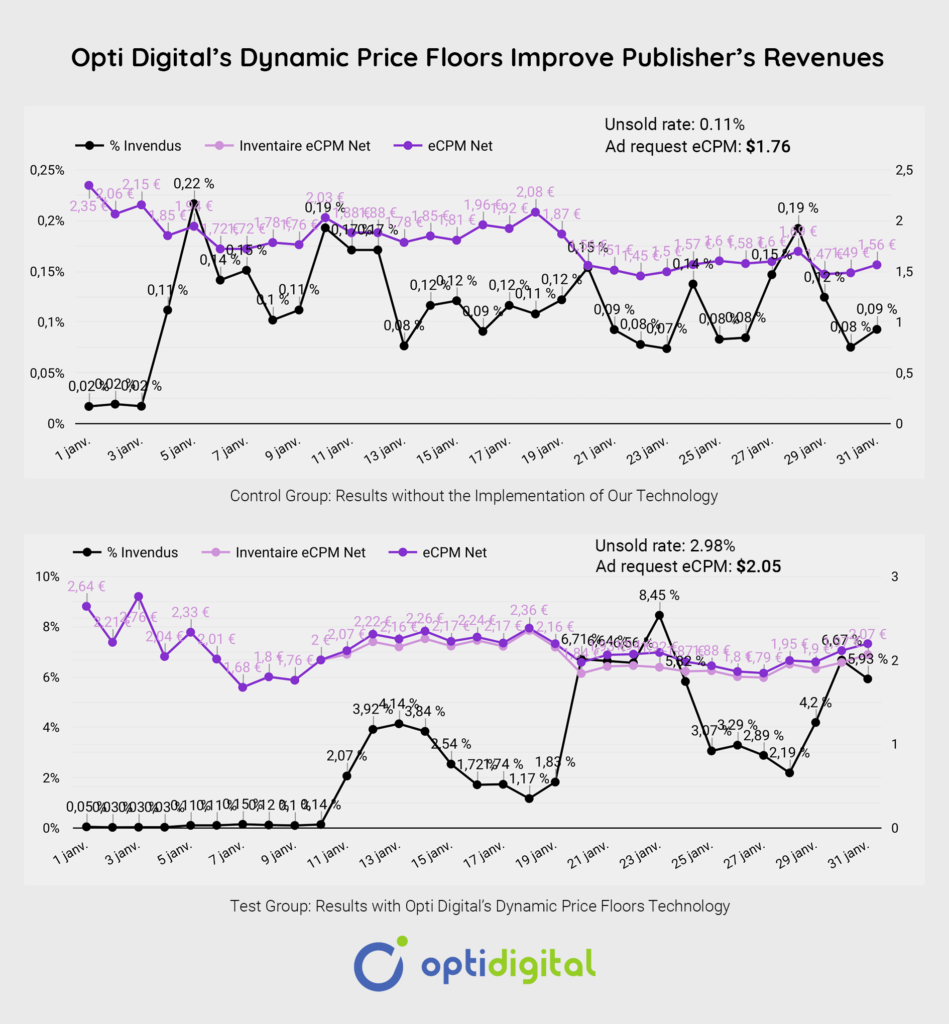 In the first graph, you observe an average unsold rate of 0.11% in January, for an ad request eCPM (in the above graph, the clear violet line called "inventaire eCPM") of $1.76. In the second graph, the unfilled rate is higher (2.98% on average), but the average ad request eCPM is better: $2.05, an increase of nearly 17%.
Dynamic floor price optimization is a general approach that adapts to complex market constraints and makes it possible to seize different opportunities throughout the year. The Opti Yield technology offered by Opti Digital goes even further, as it boosts the level of competition between Prebid, Amazon, and Google Ad Exchange. Through this transparency, Opti Digital is also preparing for the implementation of the future regulation, the "Digital Services Act," which should come into effect in 2024. One of the main missions of this act is to make platforms more transparent; for example, they will have to explain how their algorithms work for targeting advertising.
To learn more about our solution, feel free to reach out to one of our experts.